What is Solana?
Solana is not only a currency but an open-source blockchain that aims to democratize financial systems, becoming an option for those high-frequency decentralized applications.
Two of the biggest problems in the crypto world are scalability and speed. These two problems do not allow the massive and daily use of cryptocurrencies. Currently, Solana supports about 60 thousand transactions per second, this makes it the most scalable and highest performance blockchain that exists to this day. In addition, transactions within this platform carry commissions of $ 0.000001 per transaction, making it a viable option for your daily life.
Solana Price
Solana Block Explorer
Solana Block Explorer – Explore your block here
---
Solana Profile
Solana Basic Information Sheet
How does Solana work?
It works from one of its greatest innovations, the Proof of History, this protocol replaces the usual Proof of Work (PoW). It is a history that records events over time and increases scalability while maintaining its decentralization and security. This type of registry allows that the nodes that validate transactions do not have to wait for each one to be validated to advance.
Solana token burn
Solana has planned, at least in its documentation, a token-burning mechanism that is of great importance since, if applied, it would become a deflationary currency.
It is one of the most important aspects for any currency, as can be seen with Bitcoin and its "number go up", which is one of its main characteristics for value protection. It is no small thing in the case of a coin.
Now, Solana has not yet applied this token burn, although it was speculated that it was about to start doing it, which triggered a sharp rise in its price.
The documentation provided by Solana says regarding token burning:
Effective Inflation Rate [%]
The inflation rate actually observed on the Solana network after accounting for other factors that might decrease the Total Current Supply. Note that it is not possible for tokens to be created outside of what is described by the Inflation Schedule.
While the Inflation Schedule determines how the protocol issues SOL, this neglects the concurrent elimination of tokens in the ecosystem due to various factors. The primary token burning mechanism is the burning of a portion of each transaction fee. 50\%50% of each transaction fee is burned, with the remaining fee retained by the validator that processes the transaction.

Additional factors such as loss of private keys and slashing events should also be considered in a holistic analysis of the Effective Inflation Rate. For example, it's estimated that 10-20\%10−20% of all BTC have been lost and are unrecoverable and that networks may experience similar yearly losses at the rate of 1-2\%1−2%.
Founders of Solana
Solana Labs was founded at the end of 2017, by a team made up of engineers from companies such as Google, Apple, Microsoft, Intel, Qualcomm, Twitter, etc. And its creator Anatoly Yakovenko.
The project raised a majority sum of $ 25 million thanks to its investors, including Multicoin Capital, Distributed Global, CMCC, Blocktower Capital, NGC Capital, and Rockaway Ventures.
Yakovenko published the document in November 2017, together with former co-workers of Anatoly they created a blockchain prototype based on the white book that they renamed Solana as the American town of San Diego, in 2018. Its official launch was in March 2020, and in just under a year it is positioned with the big currencies.
How does Solana stand out?
From Solana they ensure that their blockchain is the fastest and the one with the fastest growth speed. Also, they claim to be the basis for 400 NFT and DeFi trading projects.
Its value increased 300% in the last month and almost 8,000% so far in 2021. It exceeded 42,000 million dollars in capitalization. This placed it as the seventh cryptocurrency within the rankings, surpassing Dogecoin.
It also stands out for its numerous ecosystem that is growing rapidly.
Solana ecosystem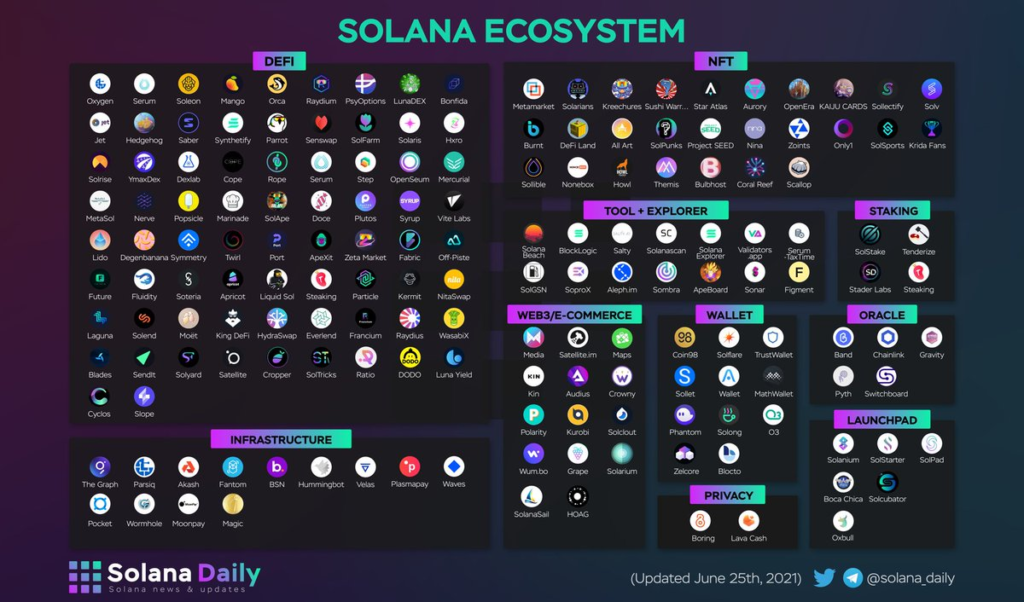 Advantages and disadvantages of Solana
Advantage
It can process 50,000 transactions per second.
A high degree of scalability through Proof of History and other innovations.
Solana has achieved economies of scale and has kept application fees extremely low.
Solana ensures compatibility between projects. Users don't need to deal with multiple shards or Layer 2 systems.
Disadvantages
Many implementations are still awaiting release in the Mainnet beta version.
The satisfactory hardware configuration for Solana is relatively more expensive.
Solana on Social Networks
Solana on Reddit
---
DISCLAIMER: Cryptopress does not give investment advice or recommend the products or services mentioned, and any loss is at your sole risk. Do your own research before risking money on the projects or companies mentioned.