Arbitrum, one of the best layer 2 scaling solutions for Ethereum, is finally releasing its governance token, ARB, and switching to a decentralized autonomous organization (DAO). The airdrop will take place on March 23 and will distribute 12.75% of the total supply of ARB tokens to eligible community members and DAOs.
What is Arbitrum?
Arbitrum is a layer 2 solution that aims to improve the performance and scalability of Ethereum smart contracts while keeping their security and compatibility. Arbitrum uses a technique called optimistic rollup, which allows transactions to be executed off-chain and only submitted to the main chain when there is a dispute or challenge. This cuts down on gas fees and traffic on Ethereum while making interactions with decentralized applications (dApps) faster and cheaper.
Arbitrum has two main networks: Arbitrum One, which supports general-purpose smart contracts and dApps, and Arbitrum Nova, which focuses on non-fungible tokens (NFTs) and gaming. Both networks work with the Ethereum Virtual Machine (EVM) and can handle Ethereum transactions and contracts without any changes.
Why is Arbitrum launching a token?
Arbitrum has decided to start its own governance token, called ARB, to make its network less centralized and give its community more power. ARB holders will be able to vote on key decisions affecting the development and operation of Arbitrum, such as protocol upgrades, fee structures, validator incentives, bridge policies, ecosystem grants, etc.
ARB will also serve as a utility token that can be used for paying gas fees on Arbitrum networks, staking for securing the network, participating in liquidity mining programs, accessing premium features or services on dApps built on Arbitrum, etc.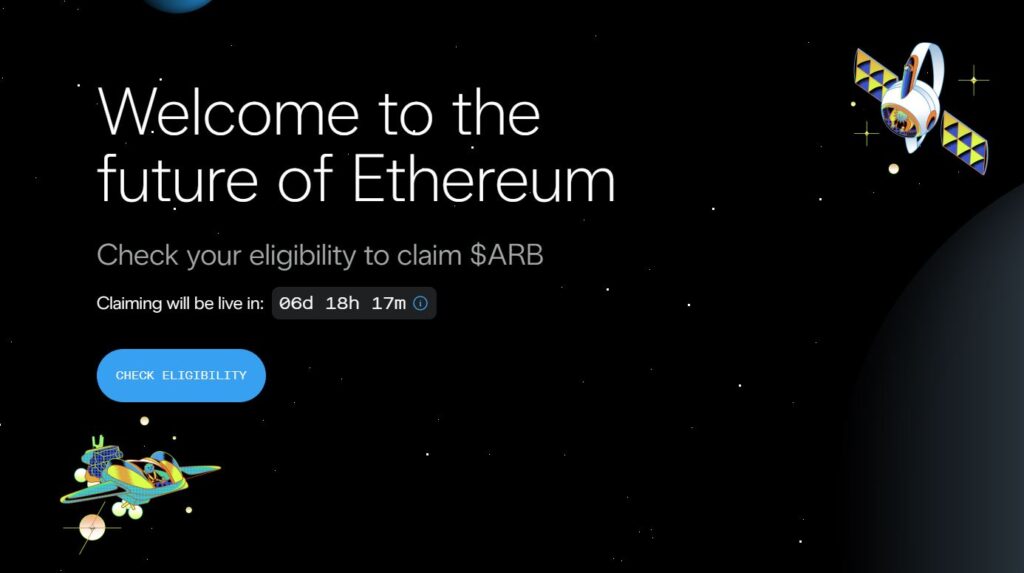 How to participate in the Arbitrum Airdrop
The Arbitrum airdrop will give eligible community members and DAOs 12.75 percent of the total number of ARB tokens, or 127.5 million out of a total of 1 billion. Those who meet the eligibility requirements do things like use Arbitrum networks or bridges, take part in governance forums or social media channels, contribute to open source projects or educational resources related to Arbitrum, and so on.
The team has also announced that they will publish a list of eligible addresses before the snapshot date (March 23) so that users can verify their eligibility status.
Step-by-Step Guide:
Visit the Arbitrum airdrop page.
Plug in your wallet.
Click "Check Eligibility" now.
While the claim is active, you will be able to see how many tokens you will get if you are qualified.
Eligibility criteria:
The eligibility of a user was determined after considering a number of qualifying acts. A few are:

Funds sent to Arbitrum One.
Transactions were conducted throughout two separate months.
Performed over four transactions or dealt with over four distinct smart contracts.
Completed transactions with a total value exceeding $10,000.
More than $50,000 in liquid assets were deposited into Arbitrum.
Funds were bridged into Arbitrum Nova.
More than three transactions have been completed on Arbitrum Nova.

The snapshot of eligible users was captured at block height #58642080 on February 6, 2023. The claim will go live on March 23.
The quantity of tokens a user may claim was determined via a points system, with a maximum of 10,200 ARB per wallet.
Arbitrum ecosystem users will receive more airdrops like Optimsm. For future airdrops, use Arbitrum-based dApps like Vela Exchange and GMX.
Airdrop information in this Medium article.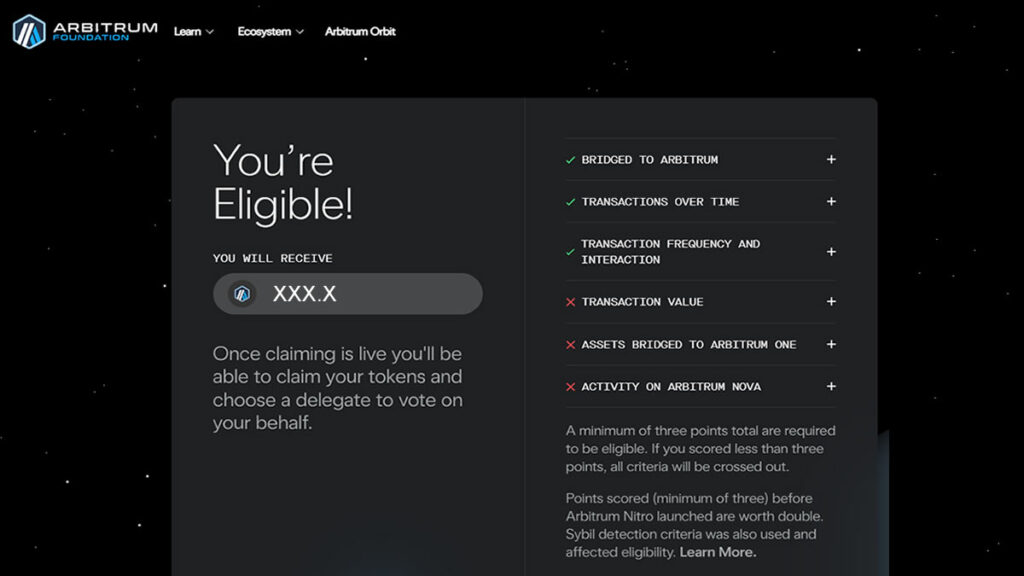 Other Airdrop participation steps:
Use one or more dApps built on Arbitrum One or Arbitrum Nova before March 23.
Interact with Arbitrum Bridge at least once before March 23.
Join Arbitrum Discord server or follow @arbitrumev on Twitter before March 23.
Contribute to Arbitrum GitHub repository or create educational content about Arbitrum before March 23.
Check your eligibility status using https://arbitrum.foundation/ website before March 23.
Claim your ARB tokens using Metamask wallet after March 23.
What are the benefits of holding ARB tokens?
Holding ARB tokens will give you several benefits, such as:
Voting rights on key governance decisions affecting Arbitrum One, Arbitrum Nova, Arbitrum Bridge, etc.
Ability to stake your ARB tokens for securing the network and earning rewards
Access to liquidity mining programs where you can earn more ARB tokens by providing liquidity
Access to premium features or services offered by dApps built on Arbitrum
Exposure to one of the most promising layer 2 scaling solutions for Ethereum
The Arbitrum airdrop is one of the most anticipated events in the crypto space this year, as it marks an important milestone for Arbitrum's journey towards decentralization and community empowerment. If you are interested in participating in this airdrop, make sure you meet all eligibility criteria before March 23rd.