Who is Arthur Hayes?
Arthur Hayes has a BA in economics from the Wharton School of Business at the University of Pennsylvania, USA, where he lived until 2007, then went to Hong Kong to work as a stock derivatives trader for Deutsche Bank and Citigroup for 5 years. In 2013 he left Citigroup to invest in cryptocurrencies, mainly Bitcoin.
Why is Arthur Hayes important in the crypto world?
Arthur is the co-founder of BitMex, alongside Samuel Reeds and Ben Delo. BitMex It is one of the trading platforms that moves the most money with respect to bitcoin. BitMex is the abbreviation of "Bitcoin Mercantile Exchange", it is a portal where investors can interact with the financial markets using the cryptocurrency Bitcoin, the product of this portal are derivatives of cryptocurrencies. It was launched in 2014 by HDR Global Trading Ltd. On the platform, cryptocurrencies are not traded directly but with the value they represent through future contracts.
Bitmex currently holds funds for almost five billion dollars, as can be seen on the crypto analytics website Coinmarketcap: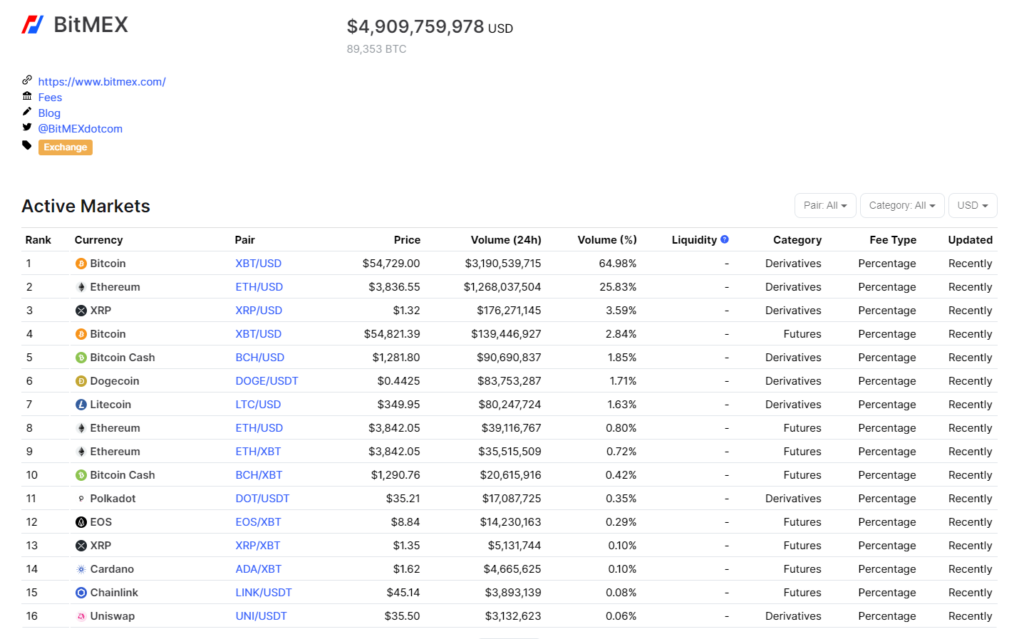 Description of Bitmex according to its own website:
BitMEX is the world's most advanced peer-to-peer crypto trading platform, backed by our best-in-class API, bringing insight, trust and accuracy to hundreds of thousands of merchants, who carry out transactions equivalent to billions of USD each. day.
BitMex website
Legal issues
Hayes resigned from his position as CEO after US authorities indicted the company for allegedly illegal conduct.
These problems are born in 2019 when Hayes and his company were sued for 300 million dollars by one of their investors Frank Amato and RGB Coin Ltd. since their investment of 30,000 dollars was supposed to become 50 million but it was never made available. capital.
Then, in May 2020 another investor joined these accusations, Elfio Guido Capone, suing them for the sum of 540 million dollars for the same reason, his early investment promised to multiply but never made it arrive.
Finally, on October 6, 2020, Arthur and Samuel "stepped down from all executive management responsibilities for their respective CEO and CTO roles with immediate effect." It was done through a blog post, where they also reported that Vivien Khoo became interim CEO, replacing Hayes.
Six months after federal prosecutors filed charges against him and three other BitMEX executives for the first time, Arthur Hayes turned himself into authorities in Hawaii. He was arrested and later released after posting a $ 10 million bond.
Other headlines: