A portion of Grayscale Bitcoin Trust's shares worth almost 40,000 bitcoins will become available in July as part of the world's biggest bitcoin fund's much-anticipated lockup expiry.
A pivotal month for GBTC's market effect is about to begin, with BTC price action continuing to "do everything right" to maintain support. The Grayscale Bitcoin Fund (GBTC) is scheduled to release more than 40,000 BTC in the next weeks, after a six-month lock-up period. 
GBTC expiry
This forthcoming Grayscale Bitcoin Trust (GBTC) Unlock is one of the year's most anticipated events in the cryptocurrency world. 
Investors joining GBTC must lock up their shares for six months. According to bybt statistics, 40,000 BTC worth of records will be unlocked throughout July, with the greatest unlocking of 16,240 BTC on July 17.
There is a lot of negative talk around GBTC unlocks, conveniently disregarding the fact that debt-financed in-kind subscriptions will eventually convert into spot purchasing. Uncertainty surrounds GBTC's unlock. Traders seeking to comprehend the implications of the GBTC unlock have boosted Google searches for the word. The six-month unlock is for traders who purchased GBTC in January.
GBTC carry trade opportunity
In January, GBTC traded at an 8–10% premium over BTC. According to IntoTheBlock futures data, futures contracts traded at a 15 to 20% premium. This provided a carry trade opportunity, where an investor would purchase GBTC and sell Bitcoin futures to gain the premium difference, minus trading and carry expenses.
As GBTC is unlocked and traders seek risk-free gains, they must terminate their short trades to make up the difference. The unwinding of short bets employed in the popular carry trade may result in purchasing pressure for Bitcoin.
At the moment, even GBTC unlocking events are scheduled to cease entirely by mid-August, significantly decreasing the probability of selling pressure.
As shown in the chart below, the greatest BTC unblock is certain to occur on July 18. (16,240 BTC).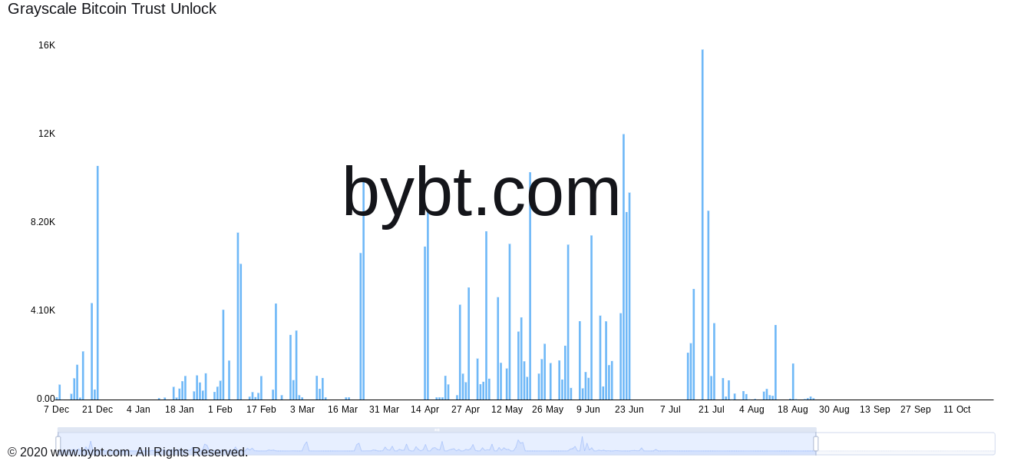 However, there is a case for the unlock causing sell-side pressure. JPMorgan analysts have argued for this position. In this case, the unlocking may be seen as an opportunity to sell GBTC shares. However, there is a case for unlocking to cause pressure on the sell-side. Although most investors would lose money due to Bitcoin prices trading at the same level as in January if GBTC goes from a premium to a discount.
Is BTC going Up or Down then?
There may be sell-offs or eat-ups of the GBTC holdings as a result of unlocking them.
Numerous market experts and traders expressed their views on this developing occurrence. While some believe that selling pressure would rise during the unlockings, others predict that spot markets will remain mostly unaffected.
According to crypto trading company QCP Capital's most recent market report, published on July 8, the widely held belief that GBTC would create BTC price volatility in the coming weeks was dismissed. After all, Bitcoin (BTC) will remain relatively stable after Grayscale's massive BTC unlocking date, according to their view.
In contrast, some experts expressed worry about the event's possible impact on bitcoin's price and the cryptocurrency industry in general.
---
Why is GBTC so important for Bitcoin -and crypto
GBTC is a kind of financial instrument that enables investors to invest in large-scale Bitcoin trusts. This implies that when the price of bitcoin fluctuates, the value of the shares in these trusts fluctuates almost in lockstep.
Investing in BTC in this manner offers a lot of advantages for investors, not the least of which is that the Securities and Exchange Commission regulates investments.
Currently, the GBTC enables investors to get exposure to Bitcoin via a private trust that trades on the New York Stock Exchange (as "GBTC").
Drawbacks
There are many drawbacks to investing in GBTC rather than buying Bitcoin outright. The first, and most obvious, is that because the trust shares trade at a premium, they have a high initial investment. This initial outlay is unlikely to be significant in a five-year commitment, but GBTC could face much more competition then than it does now.