Monero, the privacy-focused cryptocurrency project, announced plans this week to perform a hard fork to implement some improvements to the network. $XRM, Monero's native coin, has skyrocketed in price since the announcement.
Monero developers confirmed Tuesday in a GitHub post that the protocol will undergo an upgrade to implement fee changes and network security improvements. The upgrade will be implemented via a hard fork and is expected to be deployed on testnet in May.
The price increase of Monero ($XRM) may also be the product of a campaign to withdraw the cryptocurrency from centralized exchanges.
Some observers are skeptical about the timing of Monero Outreach's campaign, however. The group has been asking users to move coins for several months and others have noted that this is a common practice when coins are preparing for a hard fork.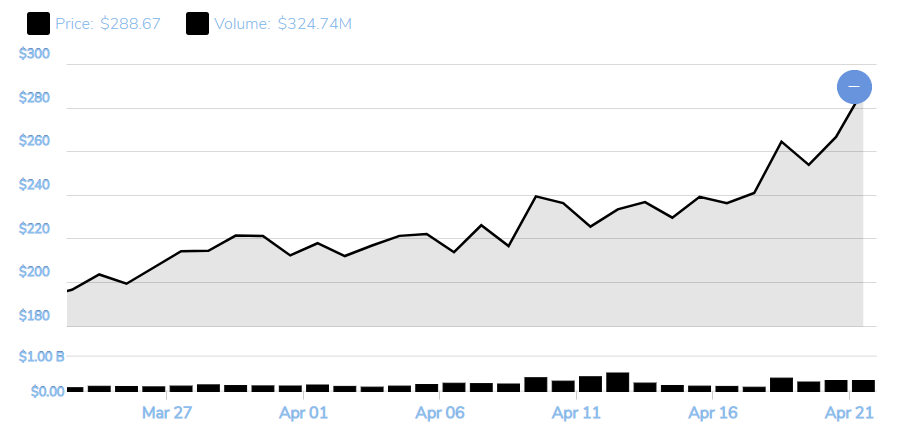 Monero (XRM) has soared more than 20% after the privacy-focused cryptocurrency's developers announced a hard fork for its mainnet blockchain.
While there is no specific timeline, the hard fork of the mainnet is expected to occur in July this year, at block no. 2,668,888. As CoinDesk gathered, the hard fork will not involve the creation of a new cryptocurrency for the protocol. Instead, it will be carried out to implement a large-scale upgrade that will invalidate the previous version of the protocol.
The news triggered a sudden price surge for XRM, which has risen 23% in the past seven days, according to data from CoinMarketCap. With a price of USD $276 and a market cap of $5 billion by press time, XRM is positioned as the 29th largest cryptocurrency on the market.
"The Monerun"
In the days leading up to Monero's scheduled hard fork, enthusiasts have led a campaign to withdraw the cryptocurrency from exchanges.
This movement, referred to on Reddit as "The Monerun," coincides with the eighth anniversary of Monero and is part of a broader effort from community members to protest what they see as unfair practices from crypto exchanges that sell XMR.
According to a post on Reddit, "We are removing XMR from exchanges. Any exchange that hasn't disabled withdrawals (which many of them already have), we are withdrawing our funds."
Monero has also been in the news recently for its upcoming hard fork. The update will bring with it some new privacy features, including bulletproofs for improved transaction efficiency and a new programming language for developers to build on top of Monero.
© 2022 Cryptopress. For informational purposes only, not offered as advice of any kind.