Anchor Protocol, the DeFi protocol built on the Terra blockchain, has decided to end its fixed rate of return following a vote.
The protocol, which allows annual interest to be generated with deposits in UST, Terra's stablecoin, will now have a variable interest rate.
Anchor originally launched with a fixed annual return of nearly 20% before launching a governance token and giving token holders the ability to vote on certain changes. With the addition of ANC tokens and the ability to vote, Anchor users were able to decide whether they wanted to keep the interest rate fixed or switch to a variable rate. This last option prevailed, with 15% of the voters who opted for the change.
The decision to change was made by voting with the governance token ANC.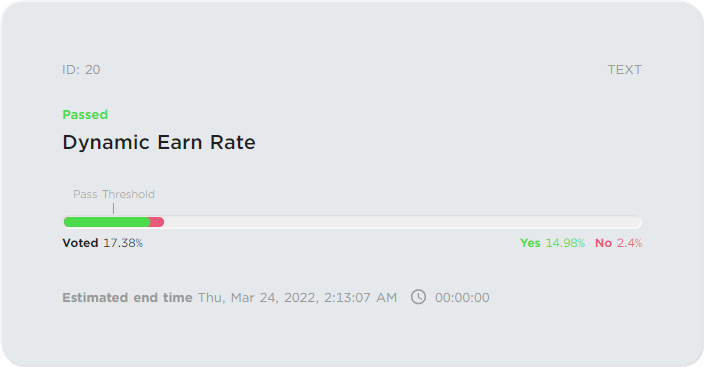 As Anchor is a decentralized platform, changes are proposed and voted on by those who own Anchor's native governance token ($ANC). A few hours ago, the vote on this proposal culminated in a favorable result. From now on, interest rates will be "semi-dynamic", which means that they will depend not only on a fixed formula but also on other factors such as market conditions.
"Semi-dynamic" means that, unlike before, when they were fixed at 20%, they will now fluctuate between 1.5% and 3%. This means that users can perform a risk assessment when deciding to stake their $ANC to earn interest without having to worry about unexpected interest rate changes.
The new interest rates will not have a great variation and will occur once a month. Anchor's protocol will automatically review the relationship between the number of users, funds in the treasury, and interest paid and make adjustments that will never exceed 1.5% (neither increase nor decrease) from month to month.
Anchor's mission is to fix price volatility in the cryptocurrency markets. To that end, Anchor provides "one token to rule them all": a fully backed stablecoin with no counterparty risk that is pegged to the value of multiple cryptocurrencies simultaneously. For Anchor to be successful in achieving this mission, it must be able to provide predictable and reliable pricing to its users. That is why these automatic changes are necessary.
© 2022 Cryptopress. For informational purposes only, not offered as advice of any kind.