A new option for cryptocurrency trading has come to market. OBSIDIAM, a Costa Rican-based company, is developing a complete cryptocurrency trading ecosystem with high security standards. The ecosystem includes inter-people crypto trading (P2P), instant exchange between platform user portfolios, and a trading exchange. All in one environment and with a very friendly interface.
P2P cryptocurrency trading
The P2P cryptocurrency trading platform is now available to users in Latin America and the world. Obsidiam users can buy, sell and exchange Bitcoin, Ether, Tether, Litecoin, Dash, XRP and Bitcoin Cash, in their local currency and with their preferred payment method.
They have a reputation system that qualifies from 0 to 5 the reliability of the trader, along with a escrow deposit of the cryptocurrencies traded between the parties, which is released upon successful completion of the transaction, provide a higher level of security and peace of mind to the users of the platform.
Fees for OBSIDIAM P2P sales services are among the lowest on the market, 25% lower than those of some of its competitors. With a Maker/Taker commission structure, those who advertise trades on the platform will only pay 0.25% of the transaction amount at completion, while those responding to the ads will pay a 0.55% commission.
OBSIDIAM has more than 30 payment methods for your P2P, including PayPal, Western Union, Zelle, Mercado Pago, Bank Transfers and the newest of its integrations: Banxa that allows you to buy cryptominedas by credit or debit card.
One functionality of the platform is to be able to make private offers between users with a certain level of trust as with a friend or acquaintance. Simply share your offer code with the person you want to make the transaction with. These private offerings have a higher transaction limit.
Registration and security of accounts on platform
Registering on the OBSIDIAM platform is very simple and is done in a few minutes. It only requires registering some basic data, pressing the Register button, enabling 2-factor authentication of the Authy platform, and validating the code. After completing this, you can now navigate on the platform.
To perform operations on the platform, Identity Verification must be successfully completed to meet KYC/AML requirements. The ID verification process is carried out by OBSIDIAM in partnership with Jumio, a leading company with customers such as HSBC, Kraken, Coinbase, among others.
OBSIDIAM has robust additional security measures to strengthen user peace of mind: Withdrawal Whitelist, Anti-Phishing Code and IP Management. All of them linked to the use of 2-factor authentication (2FA). In addition, the Ledger service is available for the protection of cryptoactives.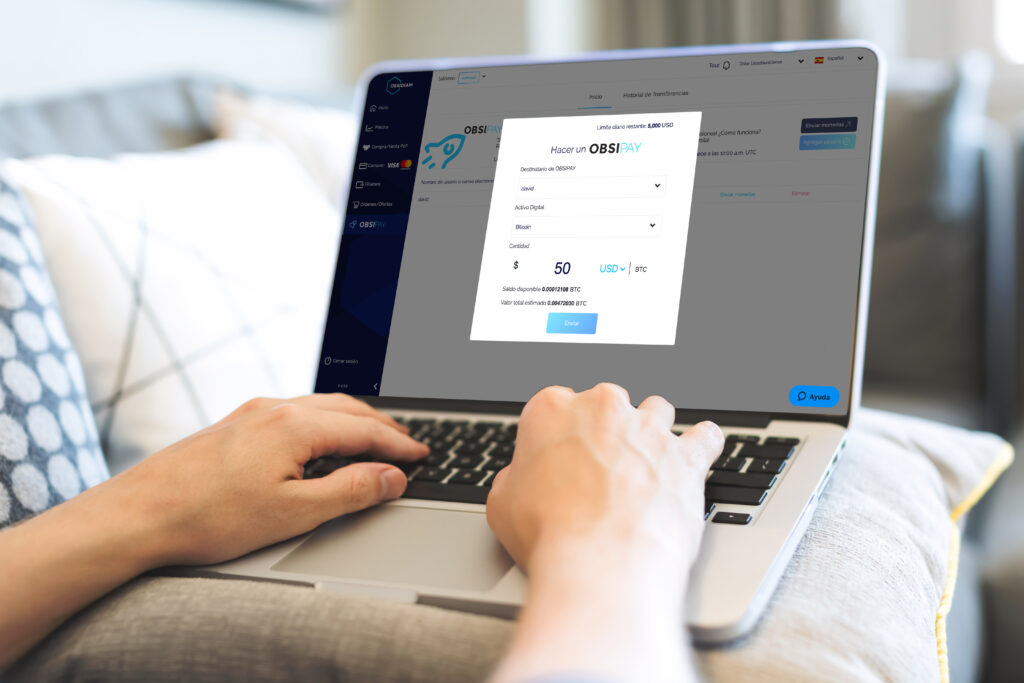 ObsiPay
This service allows users to send remittances of immediate and commission-free cryptocurrencies to other users of the platform. It is suitable even for the most beginner as it only requires registering the destination user or their mail and ready. In addition, it allows the issuer to reference the amount in the local currency and choose the cryptocurrency with which they want to make the transaction.
Upcoming releases
OBSIDIAM is developing its cryptocurrency exchange service (swap) and its crypto trading exchange. This exchange will be available in three versions: Basic, Advanced, and Pro, as users are looking to have access to this tool, depending on their level of experience.
Exchange cryptocurrencies from your smartphone.
Visit www.obsidiam.com or download its iPhone (App Store) and Android (Play Store) app and take advantage of 30 days without commissions when you sign up.
---
DISCLAIMER: The text of this article is the sole responsibility of its authors. No investment advice is provided. CryptoPress has not used or endorsed the services described.