Ezio Rojas, Director of Social Media at Parity Technologies, is a pioneer in the world of social media marketing. Parity Technologies is the blockchain infrastructure technology company behind Polkadot, which wants to, among other things, allow people to trade and use Ethereum on their computers.
We were lucky that Ezio took a few minutes to tell us about his experience working in the crypto industry, his advice for social media managers, and how he thinks crypto will evolve in the future.
How was your journey to get to your current position?
My path in cryptocurrencies starts with a need, to find a way to get out of my local currency, which in my case is the bolivar. Among that search, I found myself with the need to find an option that does not discriminate against me for being Venezuelan and that would offer me low commissions, and it was in that search that I came across cryptocurrencies. I made that discovery at the beginning of 2017, although it was not until mid-2018 that I decided to work fully within the industry since then managing to take each day as a deadline to learn a little more about this really vast universe of cryptocurrencies.
What is a typical day like working at Polkadot?
A typical day working at Parity Technologies is a day of reading and learning. In the time that I have here, I have realized that each door of knowledge that you open leads to ten more, so it is really complex to be able to seek to cover everything. Especially for a person like me, who is not a developer, it is surprising to see the great amount of information that there is at a technological level within Polkadot technology. So, in conclusion, I would define a typical day at Parity as a day where you have to learn and discover endless things that you probably didn't know the day before.
What is Polkadot's greatest strength now, and what would be the next step for the project?
Polkadot is an ecosystem with one of the strongest developers in the entire crypto industry. In the Electric Capital Developer Report (2021) that was published at the beginning of January, we could see that the Polkadot ecosystem today is the second-largest ecosystem in terms of developers, surpassing Bitcoin in this aspect. in particular.
Web3 developers are at an all-time high and growing faster than ever.
Likewise, 2021 was one of the Web3 protocols that gathered more developers around its structure and operation, which shows that it is an ecosystem with a lot of life and movement in the technological field. Precisely this large number of developers, all this talent working under the same ecosystem, is for me one of the great strengths that Polkadot has today within the industry. This is a very important particularity in a purely technological industry and also with an acceleration in the level of progress and impressive discoveries. Likewise, this variability of minds working under a single approach helps us not to be thinking of a "just the next step", but rather we can approach the future according to the needs and requirements that lie ahead.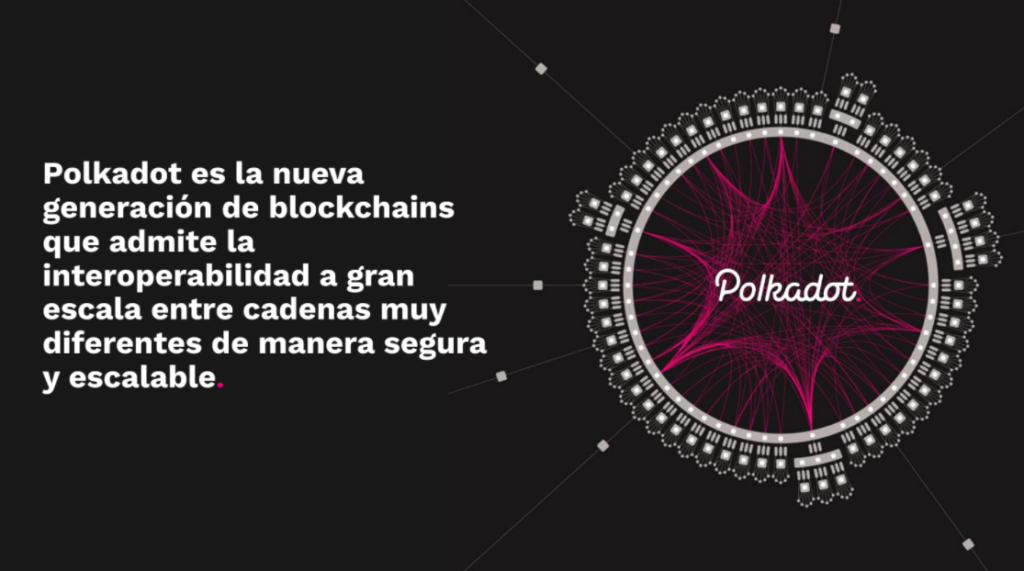 What is the importance of Parachains?
The implementation of the parachains within Polkadot marks the end of a long process of planning and development within this ecosystem and marks the beginning of everything to come. It is the staging of an idea, of the cross-chain concept, which with the parachains in operation allows this precisely to no longer be a concept, but rather we can talk about the reality of the connection between chains.
Do you think that all the blockchains that try to solve similar problems will have space and possibility to grow?
Today the Blockchain technology and cryptocurrency industry has changed a lot, offering solutions and advances that 4-5 years ago were impossible for us to even imagine. Each of these Blockchains has focused on solutions to problems from their own perspectives and, without a doubt, it will be the users themselves who will be in charge of deciding which one to use in the end.
Is there collaboration or rivalry with the other blockchains like Solana, Avalanche, and Polkadot? Can you tell us a story about it?
The truth is that the Polkadot ecosystem itself is so large and so many projects coexist within it, that it has been very complex for me to be able to orient myself to other external projects. What happens inside Polkadot is more than enough.
Having blockchains without the ability to communicate is equivalent to having different "internets" scattered around the world without connectivity to each other.

Polkadot
How has crypto changed your life?
"Opportunity", a single word "Opportunity". Cryptocurrencies have given me opportunities that due to my geographical location and government regulations I could not have achieved.
With cryptocurrencies, I have managed to reach a community of very competent people, from all over the world and focused on similar objectives, spaces that I could have reached in other ways.
I thank God every day for precisely being able to be working within an industry as amazing as this.
Do you invest in other crypto projects or just Polkadot?
I cannot answer anything related to investment.
What was the craziest thing that happened to you in crypto?
For cryptocurrencies, I have experienced very crazy things, like having to go to Cuba in the middle of the start of the Covid-19 pandemic, for example. However, I think that the craziest thing, or at least what impresses me the most on a personal level, is being able to see people not linked to technology or with very little training in this field, be interested in cryptocurrencies. I have known cases of people who, before learning to use the online tools offered by their bank, know better how to deal with a cryptocurrency wallet and a cryptocurrency exchange. It is something that does not have much logic, but it happens and it is an example of how people in our Latin American region are interested in seeking other options that allow them to get out of the so battered currencies of our area,
---
Ezio Rojas on social networks: