What is Safemoon?
SafeMoon is a DeFi token (decentralized finance token) that offers fractional cryptocurrency trading, blockchain-based loans, and commission-free exchanges. It is built on the Ethereum network. SafeMoon has three unique functions that take place during each trade; Reflection, LP Acquisition, and Burn. These features protect smart contracts from hacks and keep the contract environment safe.
It was created at the beginning of 2021. It has gained over 1 million users from more than 190 countries.
SafeMoon is a technology that combines RFI tokenomics with an auto-liquidity generator. SafeMoon intends to launch a non-fungible token (NFT) exchange, as well as charity initiatives and crypto educational apps, according to an article.
It's an evolution of cryptocurrencies such as Dogecoin, sharing similarities with Bitcoin but also carrying several unique features. SafeMoon could also be seen as a more serious take on Dogecoin, the tongue-in-cheek altcoin with an unofficial rallying cry of "To the moon" — SafeMoon's slogan is "Safely to the Moon."
Basic Info

Name: Safemoon
Symbol: SAFEMOON
Initial release: March 8, 2021
Founder: John Karony, CEO at SafeMoon
Website: https://safemoon.net/
Safemoon White Paper: https://safemoon.net/whitepaper
Supply limit: a total supply of 1,000,000,000,000,000, with 223,000,000,000,000 burned dev tokens and a fair launch supply of 777,000,000,000,000.
Safemoon burn strategy
Manual burns are an important, fundamental aspect of Safemoon. This implies that the Safemoon team will burn tokens on a regular basis in order to decrease the supply and increase the price.
To this date, almost 400 trillion Safemoon tokens have been burnt, including the first 223 trillion destroyed prior to the debut.
This strategy of "burning" coins, makes Safemoon deflationary and increases its value over time.
What makes Safemoon unique?
SafeMoon's unique feature allows those who hold the token to benefit from its appreciation in value. This incentivizes long-term ownership and disincentivizes short-term trading.
SafeMoon is a cryptocurrency platform that encourages investors to HODL by offering rewards for loyalty. The SafeMoon team will charge a 10% trading fee from each DEX trade and 5% of this fee will be distributed to token holders in proportion to the number of tokens they hold.
SafeMoon is a cryptocurrency whose aim is to provide a more usable cryptocurrency for non-technical users. They are focusing on POS (Point of Sale) services, to allow merchants to accept the cryptocurrency directly without learning how to manage crypto wallets. The fees on a SafeMoon transaction are quite low.
SafeMoon is a currency that focuses on providing a meaningful use case. It's not clear if it will be used as yet another crypto investment or if it will be purchased for something tangible and useful.
How does Safemoon work?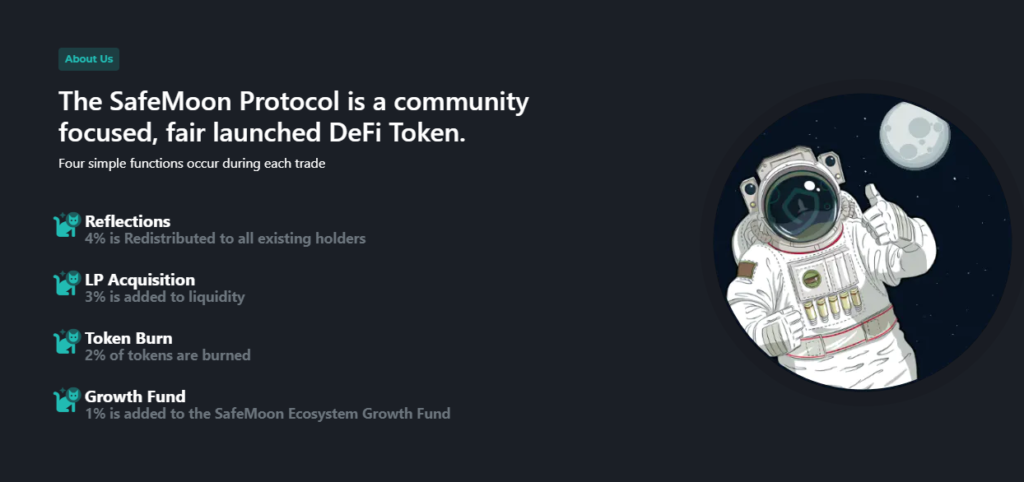 The main characteristic is its automatic LP, where each operation contributes to the automatic generation of liquidity that is destined to multiple groups used by exchanges.
Safemoon's full protocol states that the token 'treasury' is made up of the following:
Reflections
4% is redistributed to all existing headlines
LP Acquisition
3% adds to liquidity
Token Burn
2% of tokens are burned
Growth Fund
1% is added to the SafeMoon Ecosystem Growth Fund
What problems does it solve?
A major issue in the burgeoning DeFi business, according to the SafeMoon white paper, is the availability of high-APY LP-farms that are difficult to access for beginners. SafeMoon aims to employ the concept of static incentives (making the reward conditional on the volume of the token being exchanged) to alleviate any token pressure that may arise when tokens are sold.
Furthermore, its "reflect mechanism" incentivizes SafeMoon holders to retain their tokens for extended periods of time, or HODL. SafeMoon's Automatic LP additionally gives stability to the system by giving token holders with a price floor/cushion. In the long run, SafeMoon token holders benefit from the manual burn method.
The team responsible for the project claims they are building a decentralized platform using blockchain technology that is set to revolutionize how payment cards and related services work through increased transparency, fraud prevention, and cost-efficiency.
Safemoon's plan is to create a decentralized payment system that works across borders. By allowing safer, faster transactions through completely anonymous payment methods, we aim to become the leader in safe cryptocurrency payments.
What Security Measures Does the SafeMoon Network Take?
The developer burnt all tokens in the Dev Wallet before launch, there was a fair launch on DxSale, the LP is locked on DxLocker for four years, and one LP is created with every transaction and locked on PancakeSwap, according to the SafeMoon white paper.
Ecosystem
Safemoon Wallet App
The Safemoon team has delivered on its promise to develop its Safemoon Wallet, in both Android and Apple versions.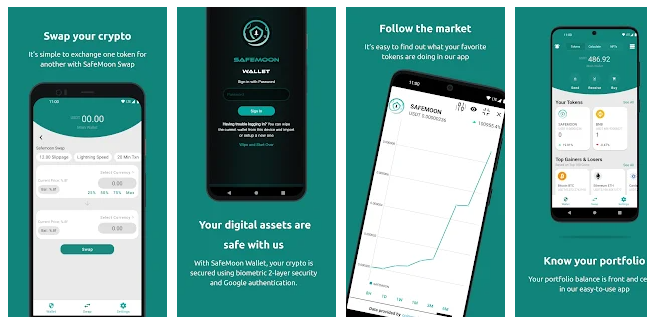 On Twitter:
Safemoon Reddit Forum: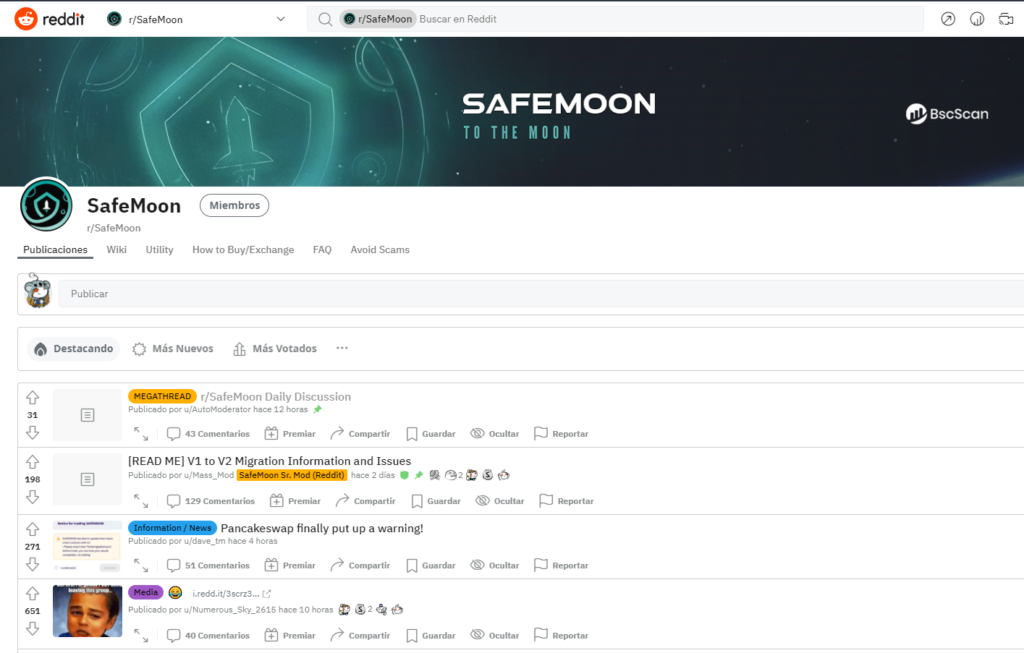 What is Mooncoin?
Mooncoin is a token based on the NEO blockchain used by all services rendered in the Safemoon ecosystem. Through the ecosystem with different services like cryptocurrency training and others, Mooncoin will be used as a means of payment for all of the costs and products.
Mooncoin is the only cryptocurrency needed for any transactions within the Safemoon ecosystem, is used to pay for all the services rendered on the Safemoon platform. All transactions are supposedly held in a secure, decentralized system.
---
How to buy Safemoon
For now, it's a more complex procedure than simply purchasing Bitcoin: you'll need to purchase BinanceCoin, and then exchange it for SafeMoon. SafeMoon may be purchased through one of four crypto exchanges: PancakeSwap, BitMart, WhiteBit, and PancakeSwap.
A special SafeMoon wallet is being developed, which may make the procedure easier.
For example, to utilize PancakeSwap, you must first download a compatible wallet like Metamask, Binance Chain Wallet, or Trust Wallet app, then purchase BinanceCoins (BNB or BSC) and upload them to the wallet. Then, using the compatible wallet app of your choosing, go to PancakeSwap, select the SafeMoon page, and trade your Safemoon there.
Step 1: Register online
Safemoon is not as accessible as Dogecoin, so getting passengers to the moon will be a challenge. Safemoon is a fraudulent digital token, which is why Coinbase and Gemini do not support it.
Pancakeswap requires a Binance account. Pancakeswap is similar to Uniswap, however, it is centralized and runs on the Binance ecosystem. Because Binance Chain employs the BEP-20 token standard (as opposed to Ethereum's ERC-20 token standard), it can only trade between lesser-known cryptos.
To use Pancakeswap, you must acquire BNB to pay for Binance's blockchain costs. Your BNB must be converted to Wrapped Binance Coin (wBNB) and sent to a compatible cryptocurrency wallet after purchase.
The names can be misleading (you will very likely end up losing almost your entire investment if you decide to invest in pump-and-dump coins like this one).
Step 2: get an e-wallet
Hardware wallets are fantastic for crypto investors who want to keep their funds offline, but currently none support BEP-20 coins. Ledger supports BEP-2 tokens, but not BEP-20. The BEP-2 and BEP-20 tokens use the Binance chain, respectively.
To use Pancakeswap, you will need a suitable electronic (software) wallet. TrustWallet and Metamask are fantastic possibilities, but you must first allow them to interact with Binance Smart Chain (BSC), which was designed to contain Ethereum.
Most bitcoin users using decentralized exchanges use the Metamask wallet, which has a Chrome plugin for seamless integration. To do this, choose "Custom RFP" from the drop-down menu at the top right of the screen. To link your wallet, you must first provide the details of the Binance Smart chain. You will need to know:
Network Name: Binance Smart Chain
New RPC URL: https://bsc-dataseed1.binance.org:443
Chain ID: 56
Symbol: BNB
Block Explorer: https://explorer.binance.org/smart
Once your Metamask BSC is ready, you can purchase it. Your money is running out for Safemoon, and the trip to the moon may not be as safe as the corporation claims.
Step 3: purchase
Buying currencies on Pancakeswap is much easier than setting up a Metamask wallet or Binance account. An Automated Market Maker (AMM) calculates token values ​​using arithmetic rather than electronic records. Choosing the Safemoon token will allow you to transfer your Binance WBNB tokens to Safemoon tokens. Pancakeswap's main advantage over other DEXs is its low transaction costs.
---
How to buy Safemoon (* Updated to January 2022)
Step 1: Create a wallet
Download SafeMoon Wallet and follow the steps to create a wallet. Always keep the 12-word seed phrase a secret.
Step 2: Buy BNB
You can buy BNB hassle-free through our new MoonPay widget in the SafeMoon wallet in a few and BNB can be bought from SafeMoon using the "Buy" button. MoonPay is a widget that allows you to easily buy BNB and other tokens.
Click the Buy button at the top of the app and select Smart Chain (BNB). Proceed to purchase. This step is not instantaneous and may take a few minutes to complete.
Step 3: Exchange BNB for SafeMoon
For a 12% (approximate) gain on your trade-in amount, make sure BNB is in the top slot and SMARTCHAIN ​​is in the bottom slot. Click on "Swap" to start the transaction.
---
Convert or exchange your Safemoon
If you choose to sell your Safemoon, you will be charged a 10% commission. This encourages ignorant consumers to keep investing even if there are better opportunities. These fees are provided to investors who do not sell their tokens, prompting them to do so.
---
What is Safemoon Version 2?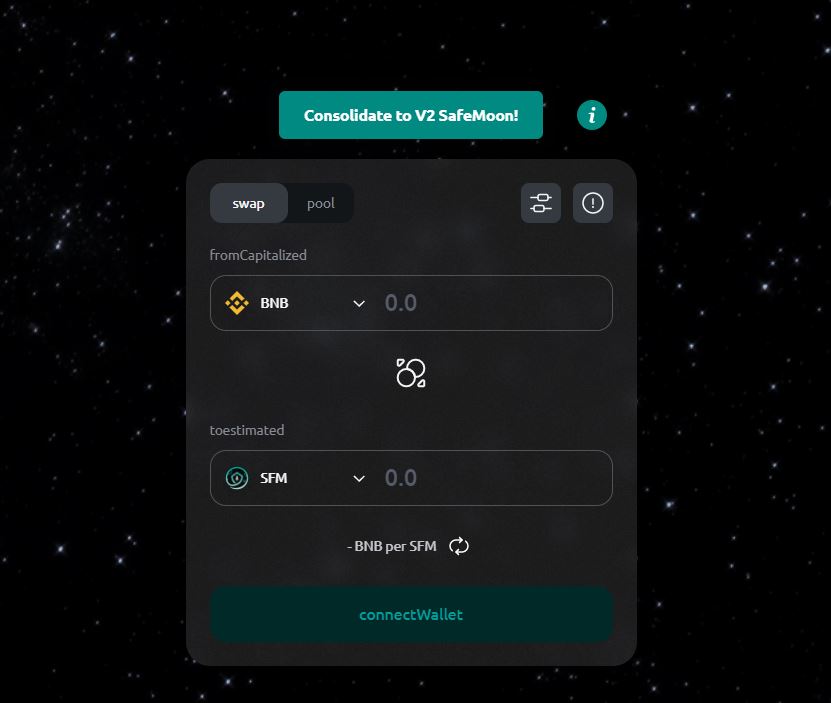 Safemoon V2
Safemoon version 2 Update
(*Updated February 2022)
On December 13, 2021, SafeMoon upgraded from version 1 to version 2 and merged its tokens in a ratio of 1000:1, which is known in the financial world as "consolidation". SafeMoon's circulating supply was cut off as a result of the V2 update, however, its users' aggregate balances were not affected.
Consolidation, for those unfamiliar with the term, is a DeFi feature that Safemoon refers to as reverse stock splits. The stock market often allows companies that want to reverse stock splits to do so, as it will ultimately benefit shareholders. The Safemoon team employs a reverse stock split on a consolidation basis, which they believe will be beneficial to the investor in both cases. Combining assets and liabilities is just one method of cleaning up the numbers without affecting the property rights of investors.
How to consolidate SafeMoon tokens to V2
SafeMoon Wallet users must update their app on their phone and complete the wallet consolidation procedure. Click on the 'consolidate' tab and follow the instructions until 'finished'.
Users who do not have the SafeMoon Wallet (other wallets): To consolidate, go to swap.safemoon.net and link your wallet. First, click the green button 'Consolidate to V2 SafeMoon!' and follow the steps. This is only for SafeMoon holders with non-native wallets. For example, WalletConnect dApp on MetaMask or Binance Chain wallets.
If you have tokens on an exchange, don't bother manually setting up the transfer. They will manage the migration and notify you by email when it is complete.
If you have a hard wallet, you need to import it into the SafeMoon Wallet app using your private key. It is vital not to reveal your private keys on social media or via email.